Responsive AMP Theme Review
There have been a lot of changes in the field of technology and information technology. Experts are launching different apps to facilitate people on daily basis. Some of them are doing great businesses and the people behind it are earning a lot of revenue. The Mobirise is also an app that works offline for Windows and Mac especially. This app is designed to work offline and can be used on mobile phones easily. The special characteristic of this Mobirise App is that it can be used to create new websites, landing pages, promo sites for apps, online resumes and portfolio, customer services and products, events and many more things like this a bit faster.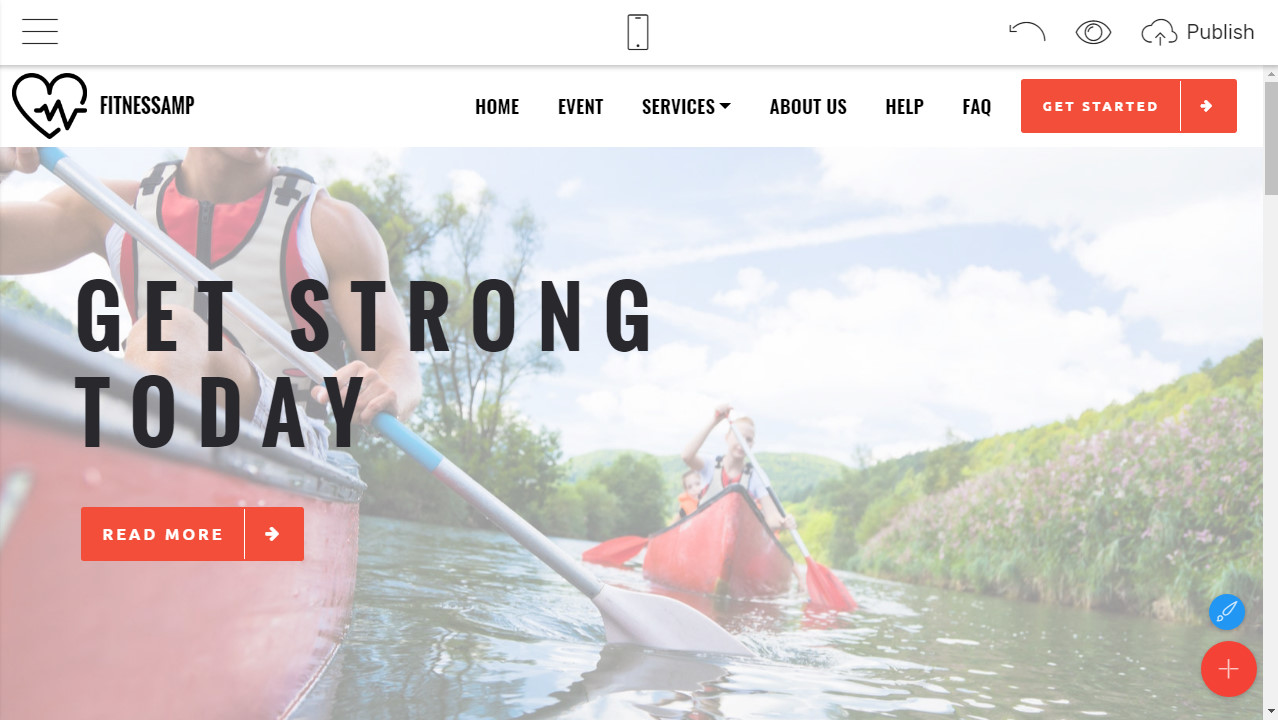 The motive of Mobirise AMP Website Builder is to provide fast access to create websites even on mobile phones. Mobirise offers new technology and features for its users, especially those who are not so familiar with the technology and are somewhat non-techies. The layout of a website is convenient and there are plenty of options to choose from if you had to pick one. Mobirise gives them a chance to build their website visually with accelerated mobile pages and without doing any hardcore coding. In case, someone prefers to do the coding, they also have a room for fast prototyping for small projects. Everything is mobile friendly and standardized according to the Google.
Mobirise and its AMP themes
It is immensely proud for Mobirise to share the fact that they are using the latest and the fastest technology in the market AMP project to make their website possibly fast and better overall. This AMP project allows the websites to run smoothly on all sort of devices. Free AMP themes and templates are used in Mobirise App to make it better overall and compatible with all devices.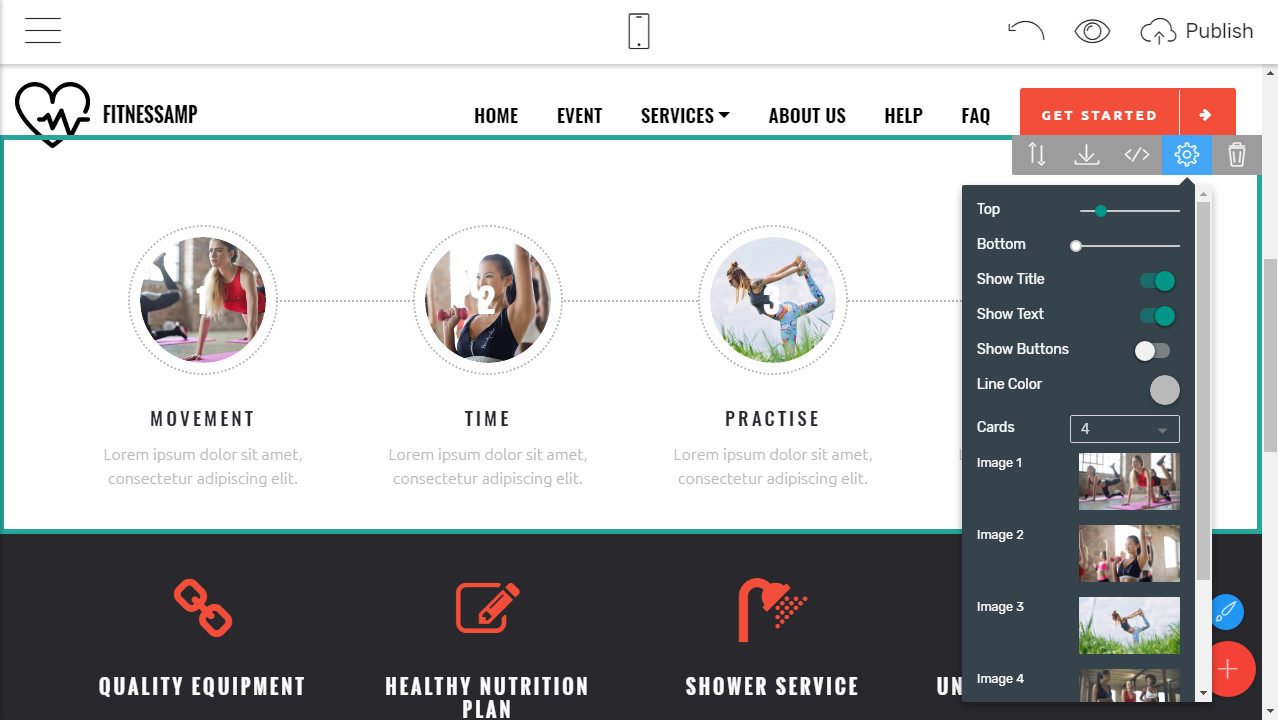 The usage of AMP Themes in Mobirise results in high performance and engagement of websites. It loads the page instantly and with fast browsing options. The users can choose the different options for their websites to make it more convenient for people. AMP Themes offers flexibility and customization to the advertisers and publishers while creating a Responsive AMP Theme.
FitnessAMP theme
The Responsive AMP Theme in Mobirise App is a wonderful Responsive AMP Theme and it contains plenty of convenient options. If you choose to build a fitness website, then you are in great luck because Mobirise FitnessAMP theme does not require you to do anything hard. There is a long list of features and layout from which one can pick any option. Every option contains carefully designed headings, related content, schedules, a related display picture and other related options.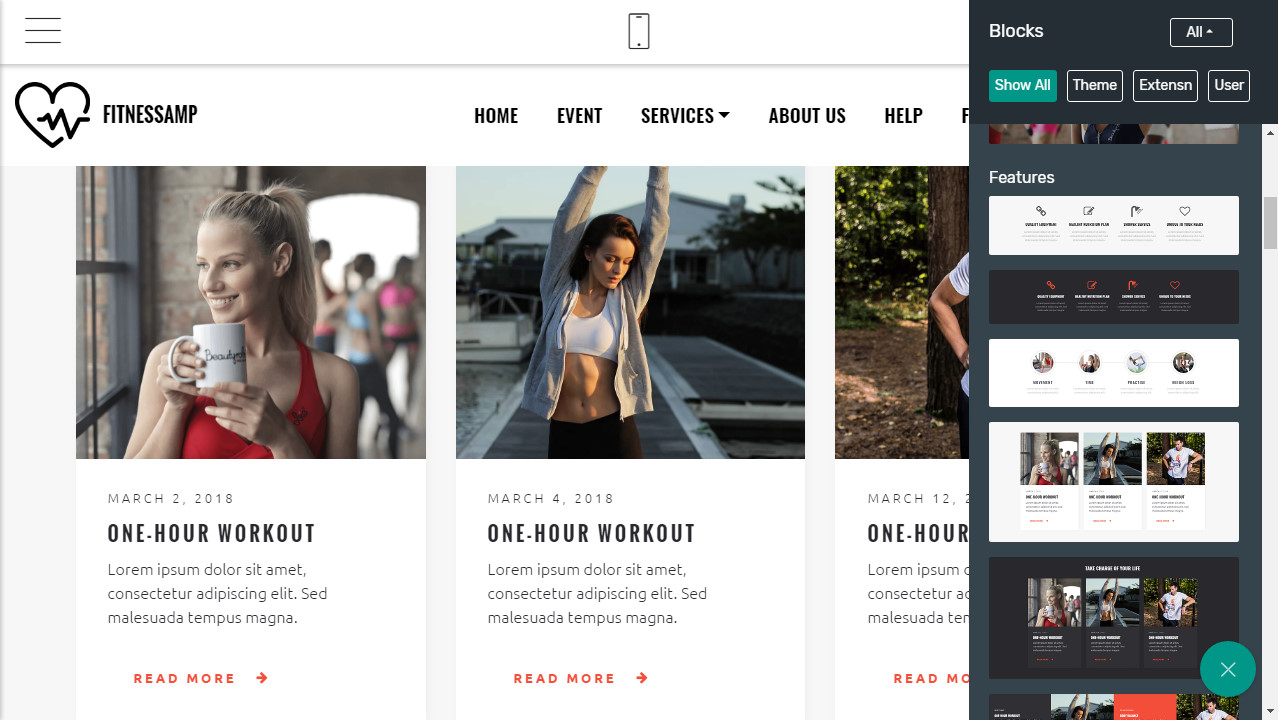 The Responsive AMP Theme allows the user to simply drag the option on to the selected layout and then you will have more color options to make the website look more attractive according to your likeness. You can make visual different than the blocks available in the option.
Excellent blocks
For the convenience of people, the Mobirise Fitness Responsive AMP Theme offers a large range of demo blocks to help you out. Think of it is as these are options to make your website look concise and perfect. With the range of demo blocks one can select more than one demo blocks to create his or her website.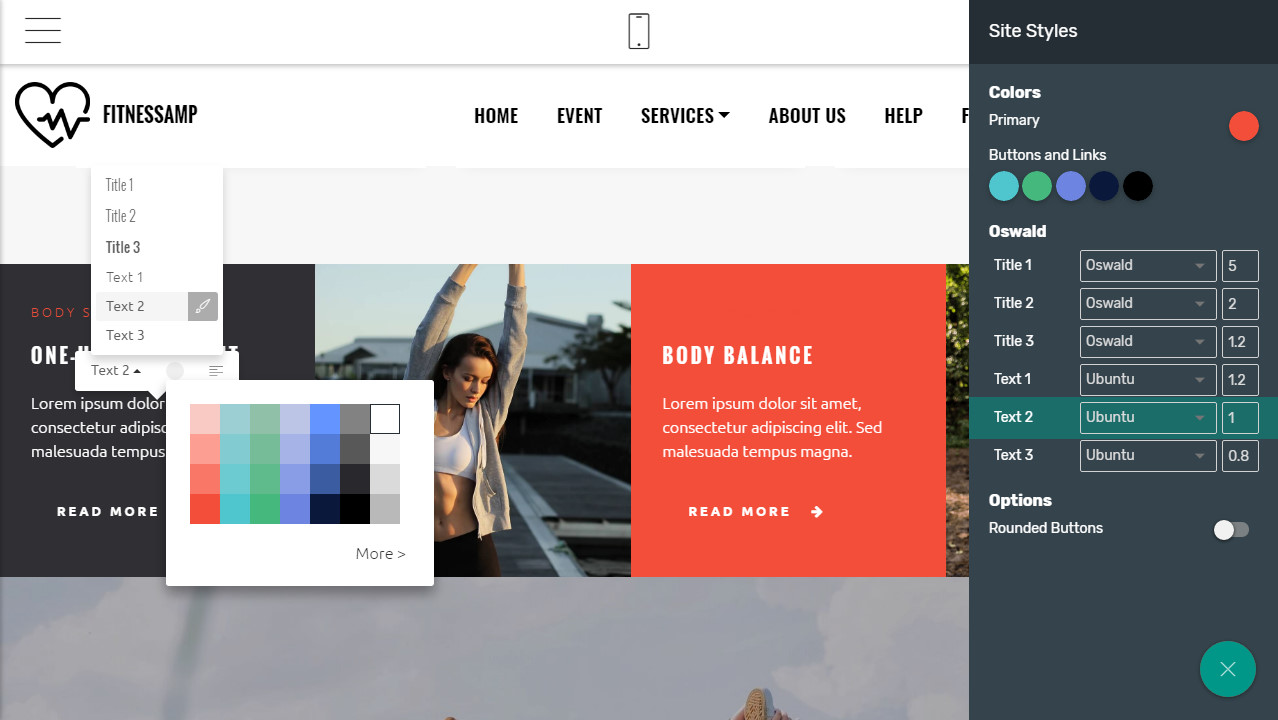 With the help of AMP project, one can use a select and drag option to use the demo blocks on his or her website. With these demo blocks, non-tech people can make their website faster and without any hustle but of course, the user can make a few changes to make it more attractive and unique. These changes can be the pictures you use or the color scheme you select for the website, or the font and heading styles you prefer. In short, a layman user can build his or her own website with multiple options available here.
How it works
It does not matter which profession you belong to because the Mobirise Accelerated Mobile Pages have all kinds of themes to match with your profession. By simply going to our Accelerated Mobile Pages Website Builder, one can see that we have loaded almost every profession on our page to help out the people in need. The templates provided there can be of great assistance to anyone who is trying to build a website for the very first time.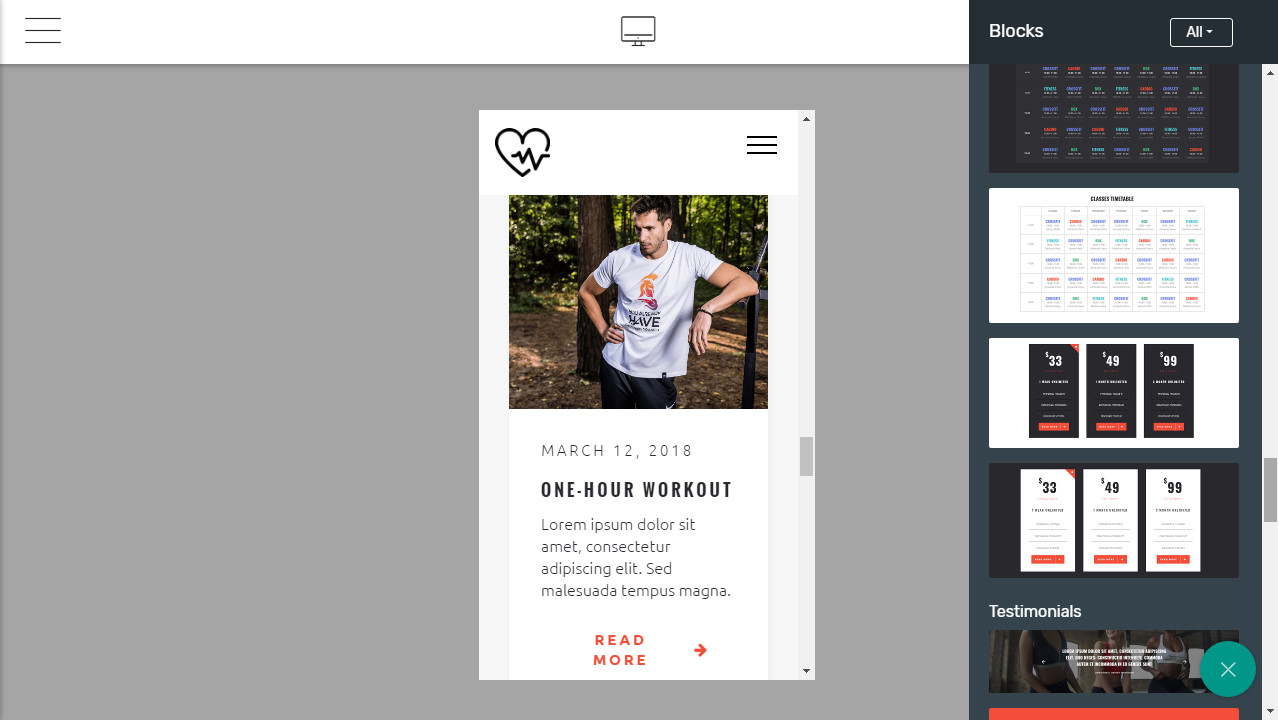 There is an option of a live demo at every template to give you the detailed idea of what you are going to do while creating a website with Responsive AMP Template. Considering the fact that the mobile phone has become an essential part of our daily lives, the Accelerated Mobile Pages automatically adjust the page layout and structure it in a way which is compatible with all devices and ensures the fast browsing and loading of any website. All the features and the coding is structured that way to support the whole layout to provide the best experience to the user.
Advantages
Clearly, there are multiple advantages of using the Mobirise Responsive Website Builder. Here we are going to have a look at the prominent advantages of Mobirise Accelerated Mobile Pages (AMP). Let's have a look:
This Mobirise AMP App is great to use because of its convenient features, especially for those who do not have any know-how of coding and website infrastructure.
Mobirise is mobile-friendly and it is compatible with almost every device. Although, it is designed for Windows and Mac especially.
The Mobirise AMP themes offer a plenty of demo blocks that save time and require less time to get the job done.
Mobirise AMP is free for both commercial and non-commercial use.
There are options for customization that is why it is flexible.
Conclusion
By sharing a brief detail of Mobirise Fitness Responsive AMP Theme, it is understandable that this Responsive AMP Theme is conveniently great to use even for those who don't know how to make a website and do any coding.
With multiple options range, this saves the time of users. A website that is compatible with mobile phone and other devices is a great opportunity for all those who face the problem of slow browsing.