LuxuryM4 Aesthetic Website Template | 2021 Review
Features of LuxuryM4 Aesthetic Website Template
LuxuryM4 Aesthetic Website Theme is the new theme issued by Mobirise Bootstrap Builder. This template was created for stores or online stores, which sell some very expensive products like jewelry, watches, special craft and so on. In LuxuryM4, you would find all the necessary blocks and layout elements for the representation of your stunning goods.
LuxuryM4 has a very exquisite layout and color palette. All elements of the design are firmly attached to their place and collaborate with other elements properly. Here you would find a lot of blocks with images. Some blocks contain both text information and a set of images, it would help you to present the main idea.
In the layout of LuxuryM4 Theme were used two fonts: Cormorant and IBM Plex Sans. Cormorant helps to create some accent on titles and IBM Plex Sans is very useful for simple reading. LuxuryM4 uses two light colors: grey and whity-pink. It helps to draw more attention to the products.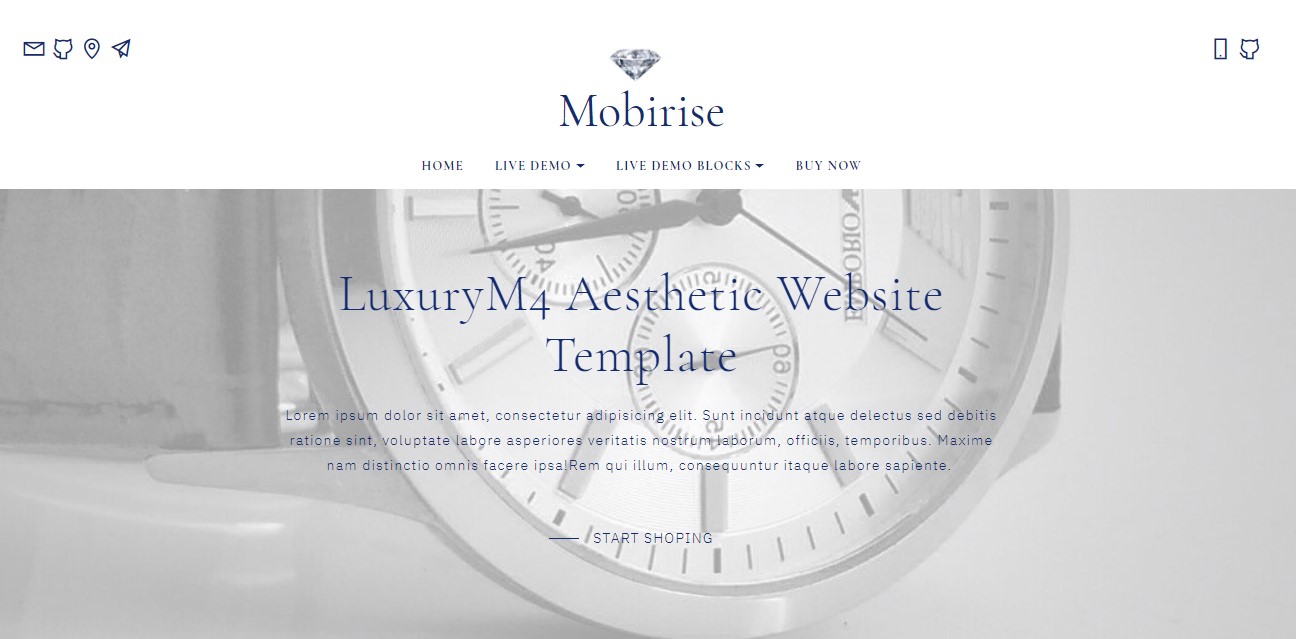 Blocks of LuxuryM4 Theme
In the LuxuryM4 template, you can use further blocks: Menu, Headers, Images and Videos, Shop, Features, Titles, Content, Info, Team, Forms, Map, Social, Footers, Popup, Sliders and Galleries, Article. There could be also the extensions. Also, you can try the option User Blocks. All the blocks are different and have a different layout, for example, can contain also a contact form.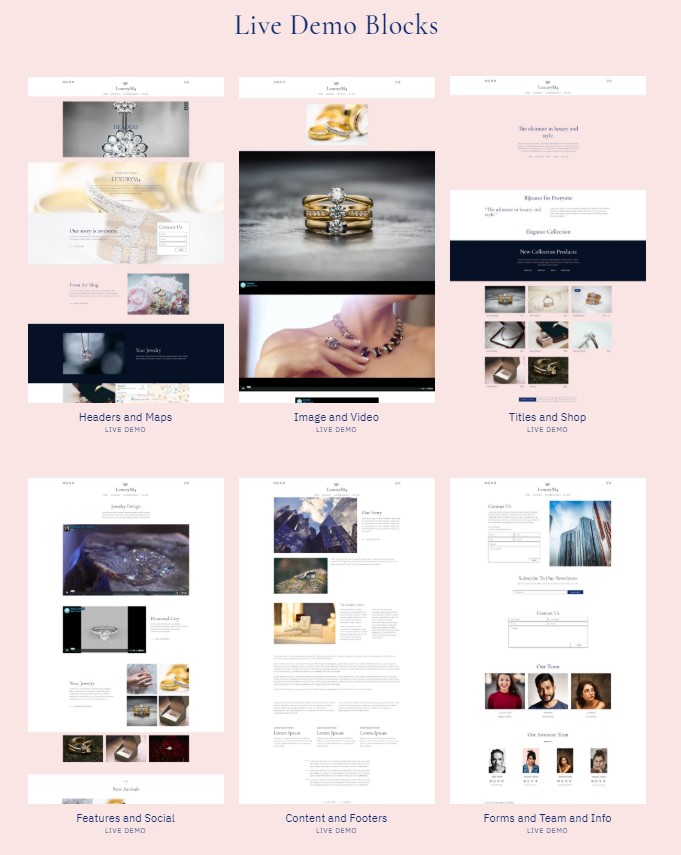 The most important and useful block in any online store is the Shop block. You can present and describe different goods. It's possible either to set sales, prices, and sellers. Also, you can work with the menu. In the settings, it's possible to set sidebar and choose sorting buttons, price range, tags, and other options. You can either choose tags for each separate good.
Slide Show is also a very important block for the representation of your products. We can advise you on the paid extension WOW Slider. It's awesome. You would have an opportunity to create a professional-looking slide-show. Social blocks and the Forms would be extremely useful either as they would help you to contact your customers and present their comments and feedback.
Bootstrap cons
The LuxuryM4 Aesthetic Website Template is based on the bootstrap. That's why your site would have plenty of advantages. First of all, your work would look and work properly across the most useful and popular browsers. Also, there would be fewer mistakes.
CSS compatibility with the most useful browsers is very important either. All elements of the layout design would look correctly and work properly.
Your work would be light, which would help to upload the site faster. The speed today is very important. It helps to avoid some irritation of the users.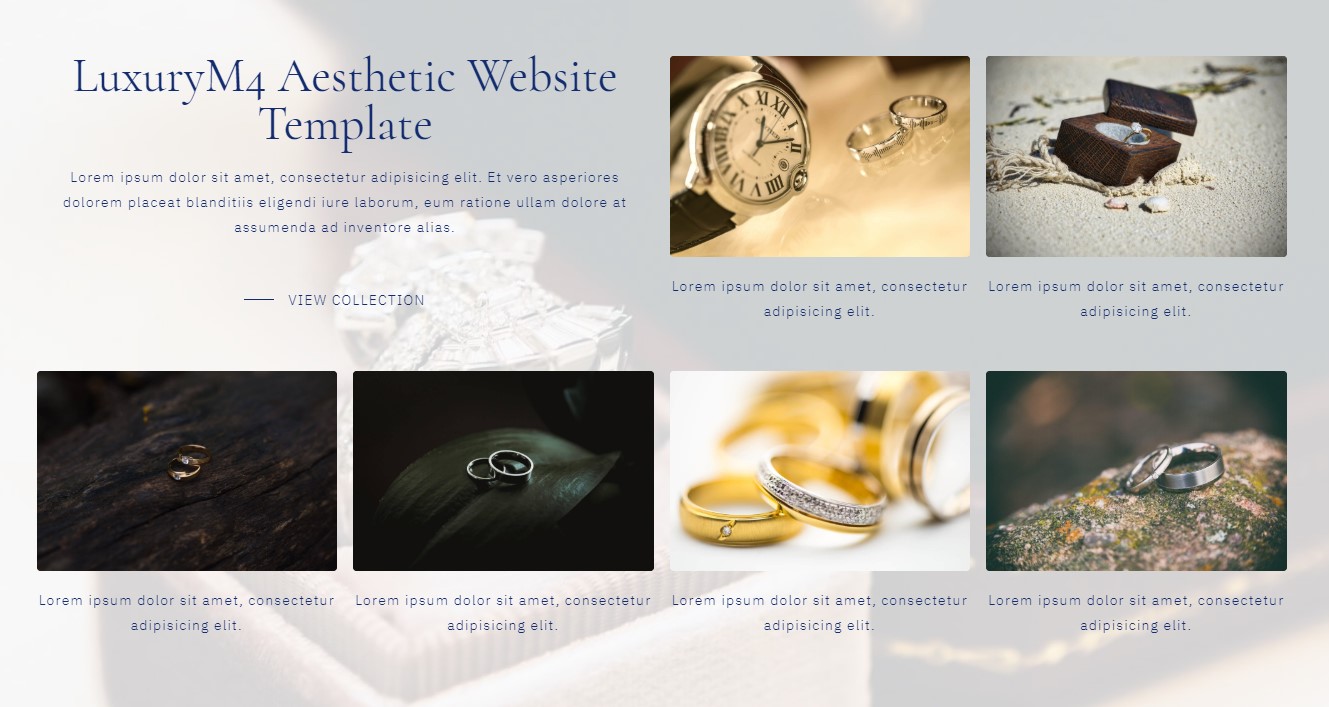 The usage of styles and responsive structure will make the work with your site very pleasant.
If you would have some problem with code, you can always find the answer in the community. Bootstrap is used very often. So it has good documentation and community support.
And the main advantage is that you can use Mobirise Bootstrap builder absolutely for free. Moreover, there are several templates, which you can use for free either.
How to use LuxuryM4 Template
Let's find out, how you can use this LuxuryM4 Aesthetic Website Template in Mobirise Bootstrap Builder.
First-of-all, you need to download the Mobirise application if you didn't do that before. Please, follow this link: https://mobirise.com/ The downloading and installation would take several seconds. When everything's uploaded correctly, you need to register. It's possible to do with Facebook or Google accounts.
After that, you would need to add LuxuryM4. Please, click on the Hamburger icon in the left upper corner then choose the Extensions and Themes tab. In the search field, type the LuxuryM4. Then, you would see this theme, it would be necessary to click on the basket near it. After that, follow the instruction.
When the theme would be installed, you can create the new site. Go back to the main menu and click on Sites -> Create New Site. In the search field, you would need to write LuxuryM4 for one more time. Then, in the appeared menu, you can choose the created template or blank page.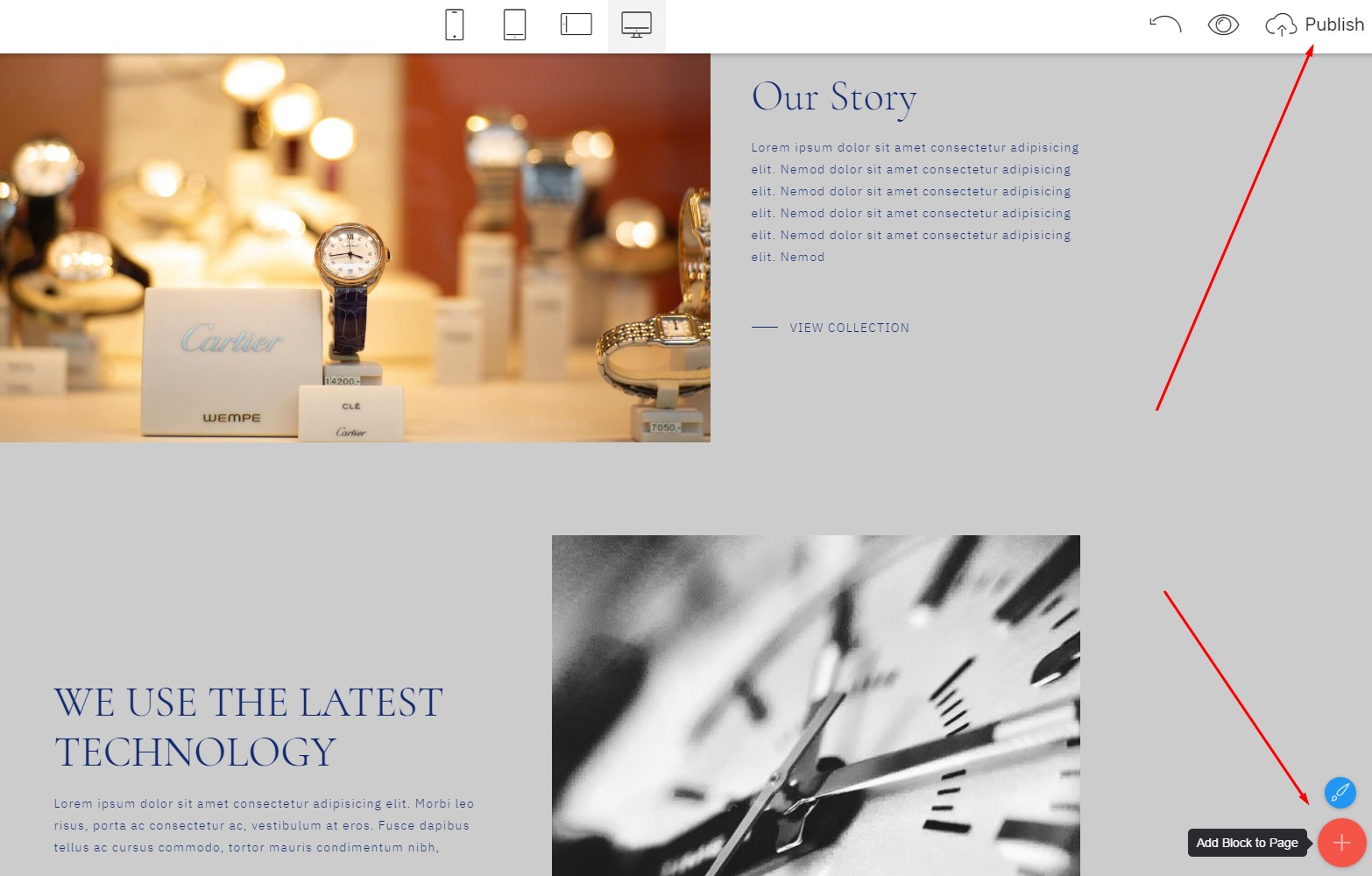 Finally, you would see the main window, where you can work with your project.
Click on Add Block to Page in the right bottom corner to add some new block. If you want to change the current Block, you would need to click on the Block Parameters in the right top corner of it. There would be different options and features.
Also, you can change fonts, fonts' sizes, and colors, buttons' colors in Mobirise Bootstrap Builder.
When your site is ready, you need just click the Publish button in the top right corner and choose the necessary option.
Conclusion
We can figure out, that LuxuryM4 Aesthetic Website Template would perfectly suit your online store if you're selling some expensive and exquisite goods.