WOW Slider - jQuery Slider Plugin Review
Have you ever visited a website and got stunned by the organized slideshow of images? Chances are high that you have. And the website is using a website slider to showcase the images in a meaningful way.
Now, let's look at the opposite of the spectrum. Have you ever visited a website and felt disgusted with the placement of the images? As an audience and a website owner, we all have both experiences.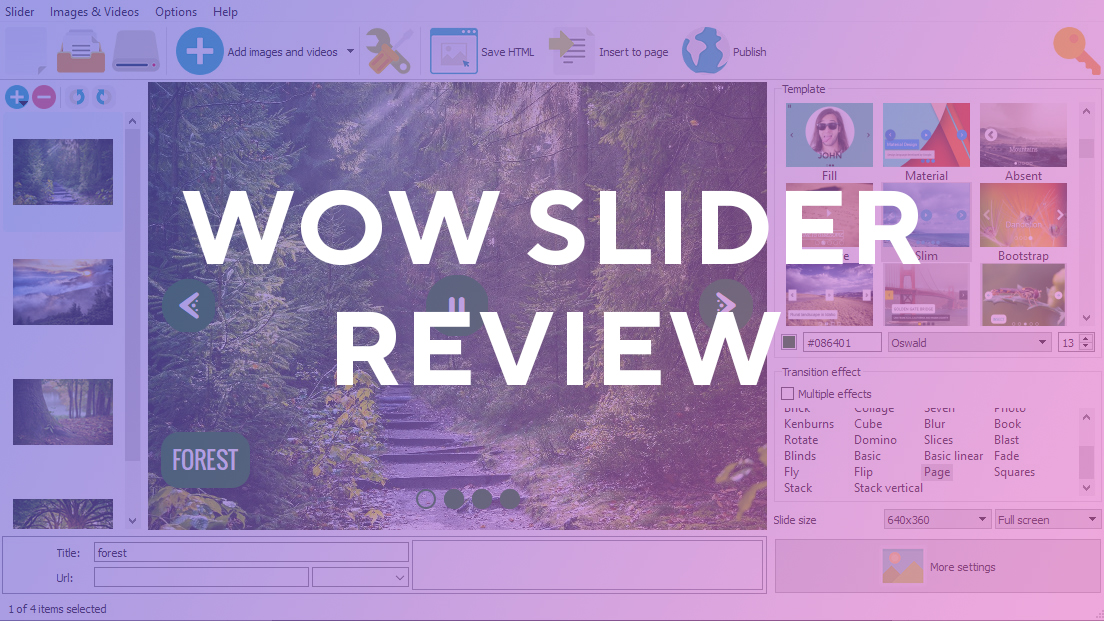 The first website that we talked about is associated with an image slider. Image sliders are tools that help embed images into a website in such a way that it looks highly presentable.
In this post, we'll go over WOW Slider, a small, free yet effective tool to make your images pop into your website.
What is WOW Slider?
WOW Slider is a highly customized jQuery Slider Plugin for making image slideshows into your website. You can optimize the images for SEO purposes as well. The superlight software doesn't put any strain on your website loading time and keeps the experience seamless.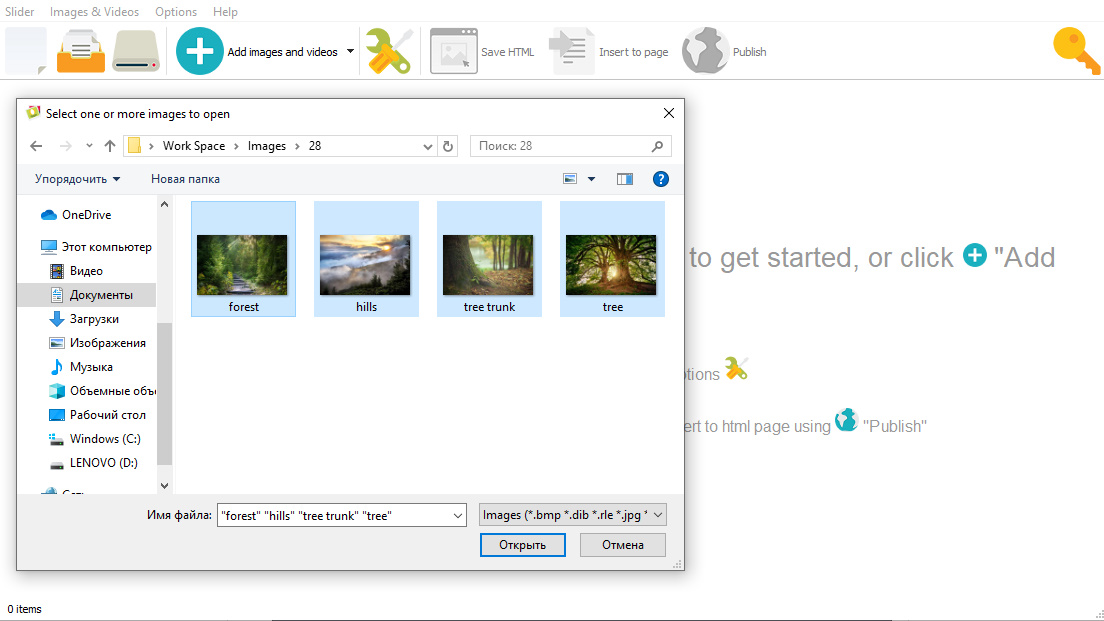 From outside, all image slider tools might look the same to you. But the reality is quite different. There are a lot of factors that go into developing a reliable and worthy image slider. WOW Slider is such a jQuery Slider Plugin with great compatibility, easy setup options with a premium overall feel.
How Does WOW Slider Work?
Using WOW Slider is a walk in the park. The interface is very user-friendly and easy to navigate. You have to follow three simple steps to use WOW Slider with your website.
The first step is to drag and drop the images that you want to showcase as a slideshow. It can be a number of images that you see fit for your website.
Step number 2 is choosing the skin and theme for your slide. You have ultimate control over what you want to do with your website. The collection of skins and themes is just impeccable.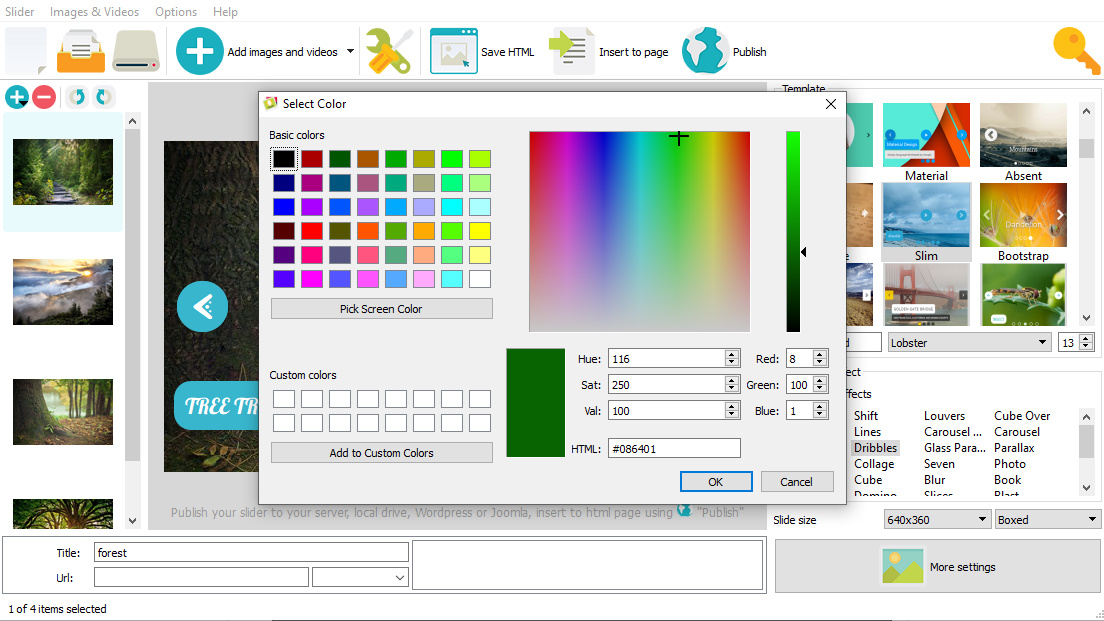 The last step is to incorporate everything into your website. You need to save the slide as a separate page, or a WordPress Plugin, or even a Joomla module. The choice is totally yours. You have another option to directly insert the slide into your website.
The Templates
In terms of templates, WOW Slider has really knocked the competition out of the water. You'll find every possible template in the jQuery Slider Plugin inventory. From night sky to hover fly, from landscapes to rivers, you'll find every theme you can think of.
All of the themes are customizable and designed to fit your exact needs. The days of looking for a theme and not finding it are over. Get WOW Slider now to give your website the best possible outlook.
The Transitions
Another aspect that differentiates WOW Slider from other image slider tools is the transitions. Transitions are as important as the theme itself when it comes to the aesthetic of a website. The transition of the images is able to portray a different message across the board. So, it's very important that your Bootstrap slider tool has great transitions. And WOW Slider is the right jQuery Slider Plugin for you. Now and for the years to come.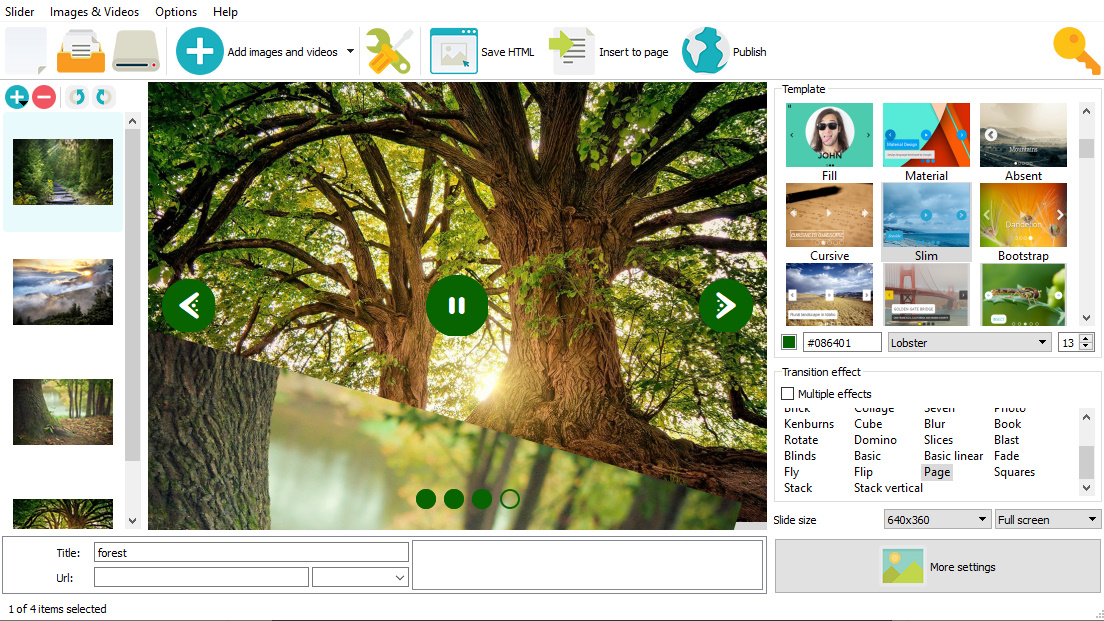 Additional Features
WOW Slider is packed with features and options that you can explore and generate new ideas for your website.
For example, WOW Slider supports swipe navigation for the images considering the vast majority of smartphone users out there. It's a very responsive slider so you or your audience won't notice any delay in the transitions.
There is an Insert-to-Page Wizard that will make the embedding process very easy and neat for you. Joomla and WordPress plugins are another helpful way of incorporating those settings. You can publish content directly to your Facebook page as well.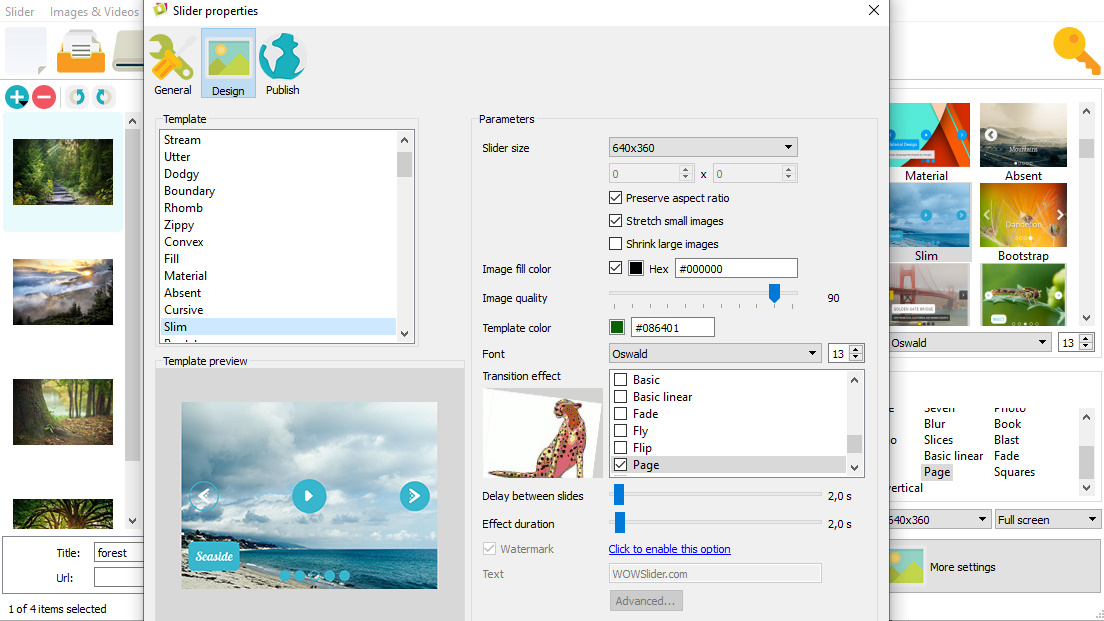 Images of different sizes, orientation, and resolution will be cropped and clipped automatically once you drag and drop them into WOW Slider.
Benefits of Using WOW Slider
Lightweight and fast-loading tool
SEO friendly
Compatible with both Windows and Mac
38 Languages supported
Insert-to-page Wizard
No need for coding knowledge
Very simple user interface
Highly customizable
Overview
WOW Slider is the ultimate image slider tool any website owner could hope for. It's fast, it works effectively, it looks good and most importantly, it's free. Don't waste any more time on other image sliders and download WOW Slider right now.